BEGONYA DE SALVO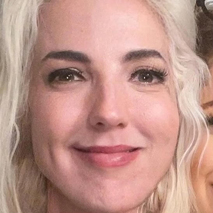 Producer and entrepreneur Begonya De Salvo has explored the art of communication in a range of cultural arenas.
A native of Valencia, Spain, she obtained her bachelor's in art history at The University of Valencia and her master's in European art history at Heidelberg University, Germany.
A classically trained actress (Stanislavski method), she has appeared on the Spanish stage in Aristophanes' "The Peace," Tennessee Williams "Talk to Me Like the Rain and Let Me Listen," and Woody Allen's "God." She also played Espe, a gipsy at "La tarara del Chapao" [The bums' lullaby] movie.
She is the host for "Las Gitanas de L.A" Podcast, and operates a successful transcription, translating and interpreting business, i-Verbatim, and is a certified Court Interpreter for the Los Angeles Superior Court
.
ANIELKA GALLO
Anielka's lifelong love of the arts began as a young girl watching dad mix inks for the printing press at the printshop.

From watching dad mix inks for the printing press, to high school yearbook editor for two years, to then go on
to pick up a few design tips/skills from Otis College of Art in Design in Los Angeles. She's spent the bulk of her design career
in the automotive industry with Fortune 500 companies like Penske Motor Group and other local southern California auto dealers.
Designing ads, signage, brochures, posters, photo editing and various creative assets for online/web use is a daily happening

in her world. Most recently she's begun to pick up product photography.


However aside from graphic design, music, dancing, good food, her 4-legged assistant Samie, live theater has a special place
in her heart. She's excited to contribute her creative skills to MACHA Theatre. Anielka has fond memories of her high school

theatre run creating costumes, and all the fun that comes with putting on a good show!
ELIA ESPARZA
Elia Esparza is a leading expert in communications and journalism targeting the burgeoning Latino U.S.A. market and has produced and written dozens of articles. Editor-In-Chief for Latin Heat magazine, and a Communications Specialist and Content Writer for The Herrera Agency, Elia, integrates her 25 years experience in the areas of entertainment, education, medical public relations, and marketing, promotions/market research, and translations/transcriptions for film/TV EPKs and media info (English/Spanish). She is author of romance novel The Other Side of Paradise (Kensington/Pinnacle, NY), an award-winning script writer and story analyst, and has been published in many Latino-American publications.
MARIE KELLIER
President/CEO, MARIKEL International

Marie holds a B.A. in theater arts (cum laude), and an M.F.A. in film and television production from UCLA. Often the lead on projects and initiatives, she has successfully raised hundreds of thousands of dollars for various education, arts and cultural projects, including securing grants from DCA, LA County Arts Commission, NEA,NPN,PreparingAchieversforTomorrow(PAT),Instituteof American Cultures, Arts Council England and other funders. A pre-qualified producer for the City of Los Angeles Department of Cultural Affairs, Marie has produced numerous large and small scale projects. She currently serves as Chair of the Empowerment Congress Arts and Culture Committee. As a Cultural Policy Fellow with Arts for LA, she chaired and co-authored a major position paper on the Cultural Equity and Inclusion Initiative (CEII), which resulted in an additional $235,000.00 in funding to implement the Initiative. She consults and advocats locally and internationally to embed diversity, access, inclusion and equity into arts and social practices.
A multi-award winning writer, Marie is an Academy Nicholl Screenwriting Fellow with the Academy of Motion Picture Arts and Sciences. She was recently elected to the Jamaica Diaspora Advisory Board and works alongside other Board Members as advisors to the Government of Jamaica, with her focus being the Jamaican creative industries.
Marie lives, works and plays in Los Angeles.
JESSICA BAIR

Jessica Bair is a Cybersecurity professional who values art and artistic expression. She serves on the Board of Directors of Outfest, the premiere LGBTQ film festival. She served on the Human Rights Campaign's Board of Governors and is the co-chair for the HRC Los Angeles Gala Dinner.
CHRIS HUME
Chris Hume is an award wining movie trailer editor. He also has two animated online series: "Attention Deficit Disorder Man" and "Umbilical Bob". He had directed and produced numerous documentaries, including "This is Cuba" and the "Red State Road Trip" series.
He also plays steel drum and teaches yoga.